The claims handling process. A crucial operation undertaken daily by insurers. The adjudication of a car claim is a complex process, with insurers gathering a great deal of information, such as claim documents, vehicle registration details, and accident forms, from various sources. We'd like to shed some light on a big challenge within the car claims environment, which involves the European Accident Statement (EAS) form as a de facto standard for filing a car accident.
Let's take a look at the EAS form.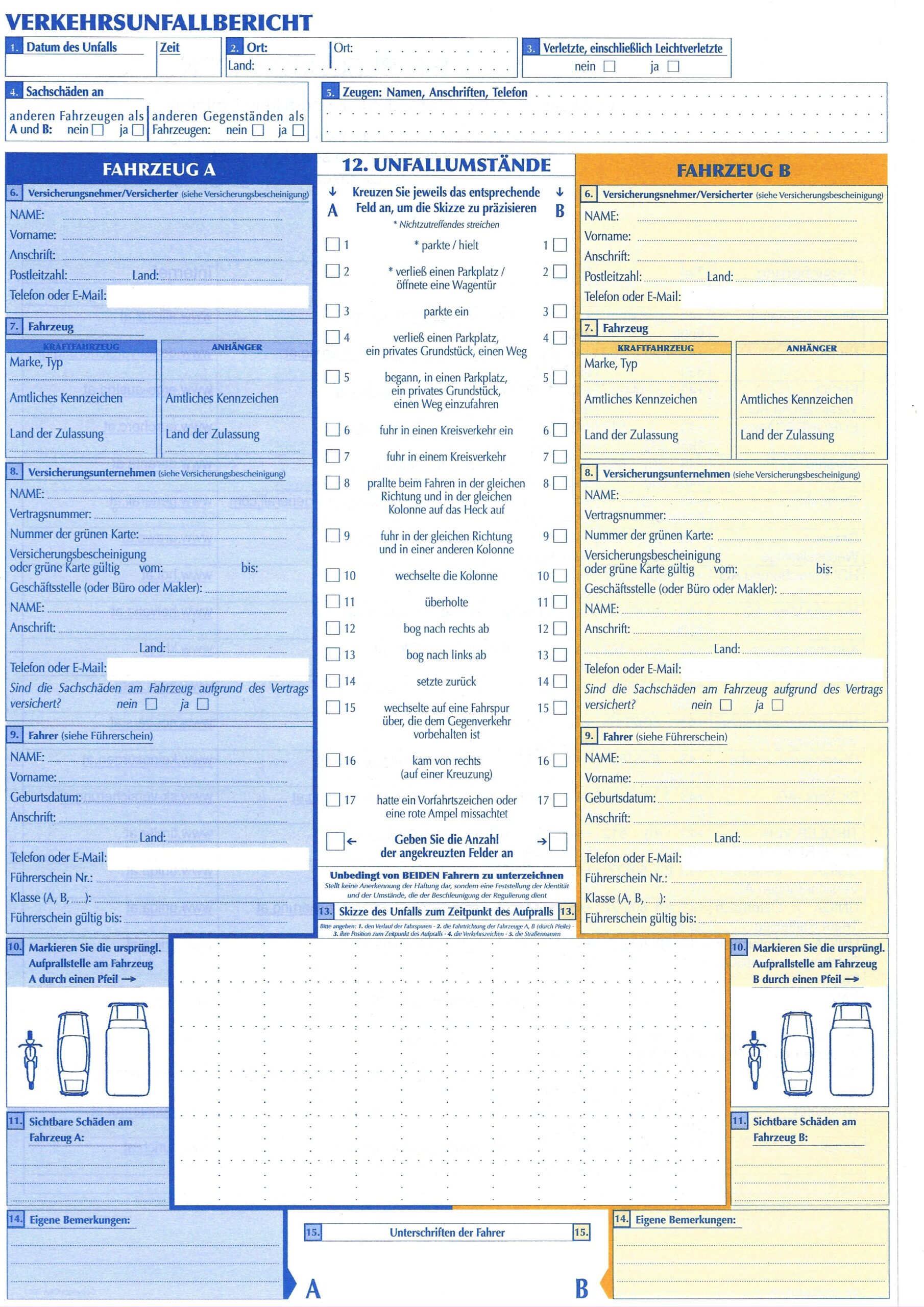 Each year, the EAS is used to file millions of car accidents with European insurers. Injury-related car accidents already account for 1,079,000 filings, where insurers aided customers in need (Source: EU Care's 2017 Annual Accident Report).
The form is used to document accidents involving 2 or more parties. Included are 2 separate sections to be filled out, which require detailed information on the respective vehicles and their owners. The combination of a description of the circumstances with a graphical representation of the collision is vital to provide claim teams with collision details and how the vehicles were affected.
Though not mandatory, modern insurers are seeing to it that their edition of this handy little form makes its way into the glove-boxes of their policyholders. Technically speaking, the accident statement is the only source of information where claims adjusters can get all necessary details from both parties. In case there are contradictions with the resulting car repairs or payments, this form is the go-to throughout the investigation phase to understand the information surrounding the car accident and to cross-check against subsequent repairs and witness statements. Unfortunately, such vital information tends to be buried underneath manual data entry.
The challenges in assessing a claim lies in the nature of the accident, as well as the circumstances surrounding it.
Challenge #1
These millions of documents are filled in by individual people's unique handwriting. Let's not forget. These forms are filled out right there on the spot at the scene of the accident, by the very people involved in the accidents. Imagine the flurry of emotions following a car accident: Nervousness. Fear. Frustration. Filling out a form in a disarray of emotion results in that special shaky flavour of handwriting. Challenging as it already is to interpret certain handwriting types, this poses an even deeper challenge. The issues of time taken, as well as accuracy concerns, arise here.
Challenge #2
Handwriting is a cost-intensive endeavour to digitize and use throughout the daily process. The digitalization time spent on handwritten text accumulates pretty rapidly. Especially when considering the fact that there are close to 100 fields of purely handwritten information needed to find its way into the insurance systems. Data entry quickly adds up on the clock, sacrificing time that can be better spent on understanding and resolving complex situations.
AI to the rescue
Seeing that an accident statement form is no ordinary run-of-the-mill document, it is a fantastic area to experience the impact of AI advancements first hand and solve a challenge faced by insurers every day. omni:us makes the digitization of documents and all the information packed within them, not only possible, but also cost-efficient.
Information is key, and AI's application is the engine driving the availability of data. With more information than ever being readily accessible to insurance carriers, claims processing results in shorter handling times and improved assessment quality due to self-learning algorithms which thrive on data.
omni:us is changing the status quo as we bring first hand applications of AI into the daily operations of insurers. Digitization of the European Accident Statement is one of the many claims-related documents where we enable data access on an unprecedented level.
Reach out to us and find out how information extraction is the engine of digital transformation.
Blog